The potential to secure U.S. Antimony
From technology and defense applications to grid capacity storage batteries, the critical mineral antimony is key to achieving a more sustainable and secure future. Yet, the United States has no domestically mined source of antimony and China, Russia and Tajikistan control more than 90 percent of global production (USGS 2023). Dependence on these countries puts our supply chain, and our future at risk.

The good news is, through the Stibnite Gold Project we have the opportunity to secure America's supply of antimony.
Located in Idaho, the Stibnite Gold Project has one of the largest economic reserves of antimony and could supply approximately 35% of U.S. demand in the first six years of production (USGS 2023, Stibnite Gold Project Feasibility Study).
Recently, Perpetua Resources signed an agreement with American company Ambri that directly links the Stibnite Gold Project to a battery manufacturer poised to play a key role in reducing carbon emissions (scroll down for more on that important partnership).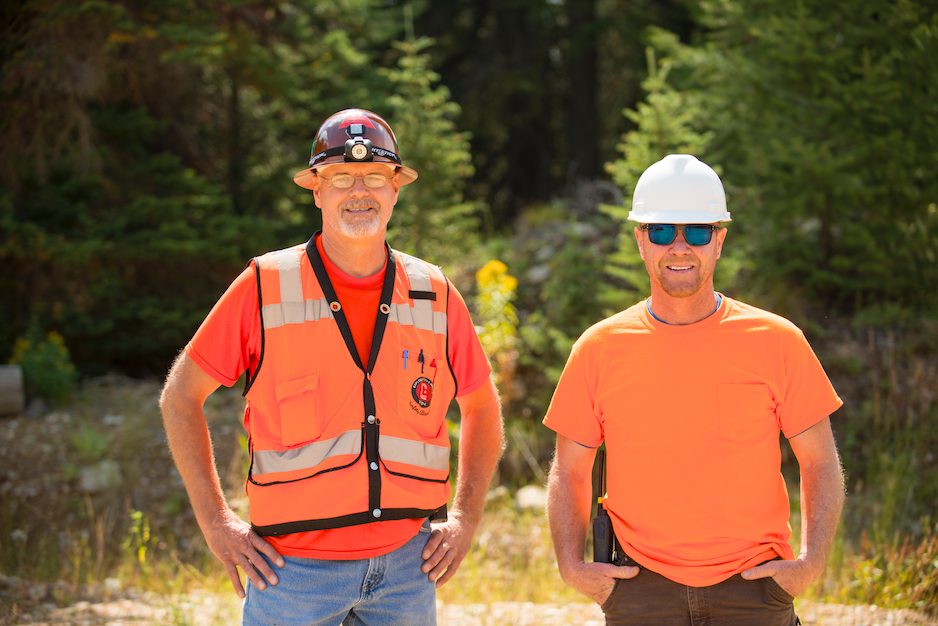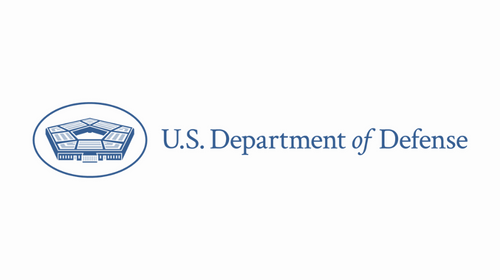 Press Release
DoD Issues $24.8M Critical Minerals Award To Perpetua Resources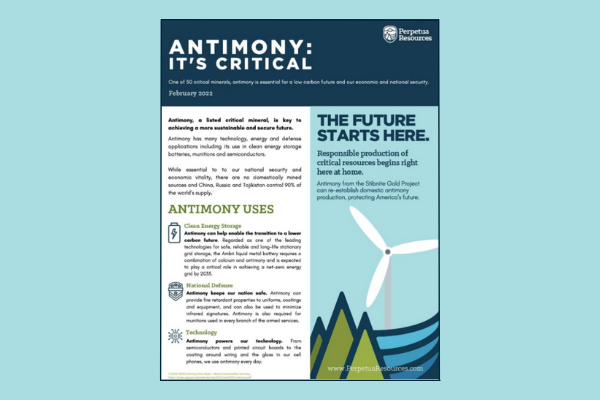 Fact Sheet
Antimony: It's Critical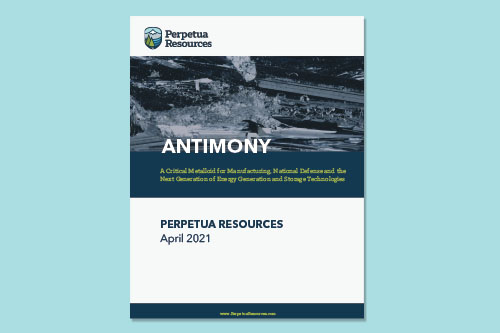 Technical White Paper
Antimony: A Critical Metalloid
Why is Antimony So Important?
Often used for its unique fire retardant and metal strengthening properties, antimony is essential to many technologies, energy and defense applications. Yet, with no domestically mined source and an unstable supply, the U.S. Department of the Interior has deemed antimony as one of the 50 critical minerals.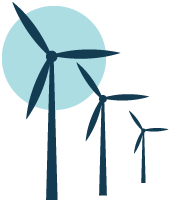 Antimony is key for the transition to a low carbon future
.
As a glass clarifier in solar panels or as a metal strengthener to wind turbine components, antimony plays an important role in producing clean energy. More recently, antimony is gaining recognition as a battery metal for its role in "liquid metal battery" technology.  Regarded as one of the leading technologies for safe, reliable, and long-life stationary grid storage, liquid metal batteries require a combination of calcium and antimony and will play a critical role in achieving a net-zero energy grid by 2035.

Antimony keeps our nation safe.
Every military uniform is coated with antimony to provide fire protection and minimize infrared detection and is used for munitions and primers used in every branch of the armed services. Antimony is also used to produce effective fire retardants in plastics and fabrics and is used to help contain forest fires that ravage the western half of the United States.
Antimony powers our technology.
From semiconductors and printed circuit boards to the coating around wiring and the glass in our cell phones, we use antimony every day.
A Partnership with Ambri
In the summer of 2021, Perpetua Resources entered into a partnership to supply a portion of our antimony production to support the commercialization of Ambri's liquid metal battery for largescale storage of clean energy. Our agreement establishes the foundation to help facilitate the decarbonization of energy grids in the U.S. and around the world.
Ambri's low-cost, large-scale batteries make it possible for power grids to rely more heavily on renewable energy sources, such as solar panels and wind turbines, and could fundamentally change the way our energy system operates. This battery technology is essential for the U.S. to meet our 2035 clean grid energy goals.
Antimony from the Stibnite Gold Project will enable the production of batteries with over 13 Gigawatt hours of clean energy storage capacity, more than eight times the total additions to the entire U.S. energy storage market in 2020. To put that into perspective, that amount of storage could power approximately 1 million U.S. homes with solar energy over the targeted 20+ year lifespan of Ambri's batteries. This is just from the current amount of antimony we've committed to Ambri from Stibnite.
Currently, Ambri's technology is being used at a Nevada data center and is in development as a tool for sustainable infrastructure development. The company recently secured $144 million to move forward with commercializing its batteries which will include U.S. manufacturing. In May of 2022, Donald Sadoway was nominated as a finalist in the 2022 European Inventor Awards for his creation of a liquid metal battery capable of storing renewable energy at the grid level.
Ambri's liquid metal battery with Antimony makes the transition to a 100% renewable energy grid possible.

Webinar: Antimony & the Stibnite Gold Project
Watch our webinar to learn more about antimony and the critical role it plays in America's energy, technology and defense future.
Watch Now
Learn More About Antimony