Our cleanup activities to improve water quality in the historical Stibnite Mining District this summer are well underway.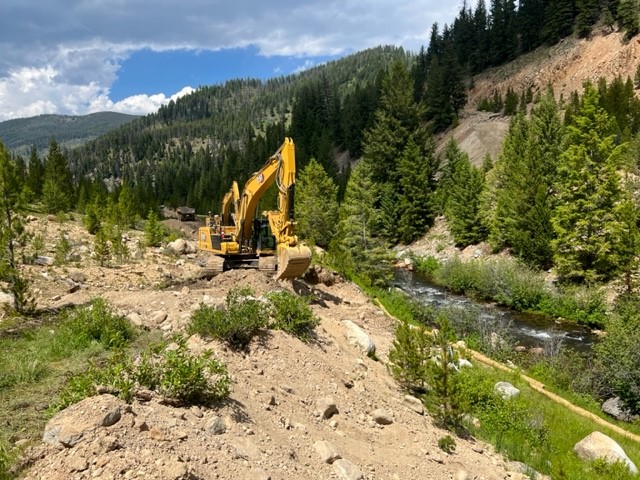 In late June, our team and Iron Woman Construction and Environmental Services successfully finished mobilizing our teams and equipment to site for the next round of voluntary legacy waste cleanup. Over the next few months, Iron Woman will help us move more than 300,000 tons of legacy mine waste away from sensitive waterways on site and relocate it to areas where it can be safely stored.
So far, the work is going well. The team is currently focusing most of their efforts on the old Bradley Camp dump. Iron Woman has been digging up legacy waste rock and tailings that were deposited unconstrained in the river valleys back in the 1930's and '40's and moving it to a repository on site. The Bradley Camp dump is one of three locations we will focus on removing legacy mine waste from this summer. Iron Woman is also working concurrently at the NW Bradly dump and will then transition to removing tailings adjacent to the East Fork of the South Fork of the Salmon River.
All three of the sites we will be working on this summer parallel the East Fork of the South Fork of the Salmon River and sit outside the proposed footprint of our Stibnite Gold Project. This means these areas would be left untouched if it wasn't for our voluntary cleanup efforts.
While all of the equipment we will need for cleanup is now at site, there will still likely be extra traffic on the road as we have extra supplies, fuel and food brought up to site. Our team will always adhere to speed limits and do our best to share the road with our neighbors. Large loads will also be escorted to site by pilot cars. Please help us keep the roads near site safe this summer by paying extra attention when you are behind the wheel.
If you see anything that needs our attention, please do not hesitate to get in touch with our team by emailing [email protected].
Check back soon for more updates on our work.