Published on April 21, 2021
When we renamed our company to Perpetua Resources, we were making a public commitment to protect our state's bountiful resources, so that they may provide for generations to come. Our name is rooted in our state's history. So, to help you fully understand the significance of Perpetua Resources, we thought we would share a bit more information on Idaho's state seal.
Where it all Started…
Idaho was first explored by Meriwether Lewis a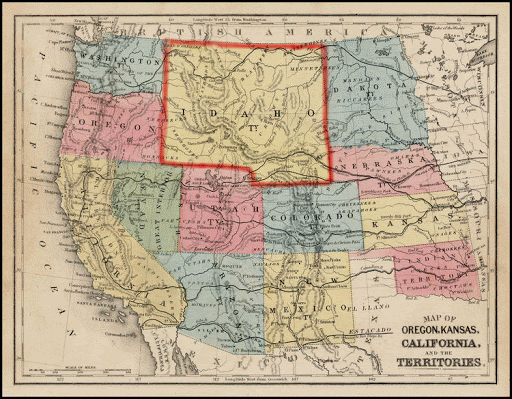 nd William Clark in 1805. Before their arrival, Idaho was home to numerous Native American. The pair explored Idaho when they were surveying the land the United States had recently acquired in the Louisiana Purchase. A few years after the Lewis and Clark expedition, British fur trappers, missionaries, and a few other resilient settlers moved to the area. Tens of thousands of settlers raced to Idaho in September of 1860 when gold was first discovered.
To combat division amongst the settlers, the Idaho territorial legislature wrote a constitution in 1889. It was approved by the U.S. Congress one year later and on July 3, 1890 Idaho became the 43rd state in the union.
Idaho's State Seal
After Idaho became a state, it needed a state seal.
State officials invited artists from all over the country to submit their designs for the seal. Many entered the competition, including Emma Edwards.
Edwards was coming home from a year-long art program when she stopped to visit relatives in Boise in 1890. Originally, she was only planning to stay for a short period of time but she fell in love with Idaho and spent the rest of her life living in Boise.
She had just started teaching painting classes for young students when she was invited to participate in the competition for the state seal. Her design captured the judges attention and she was declared the unanimous winner.
Edwards is the only female to design an original state seal.
Symbolism within the Seal
Edwards designed the state seal with intention. Before she began, she studied the state's resources and its future possibilities. She even solicited advice from legislators and locals. She designed every component of the seal to represent a key characteristic of Idaho.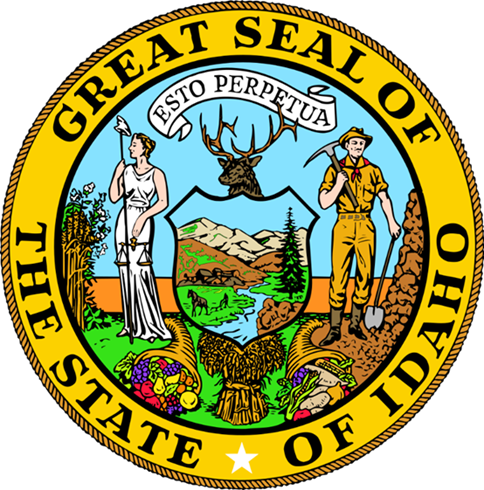 The legislators she spoke to had already agreed to soon grant women's suffrage, thus one of the two characters Edwards included was a woman carrying the scales of justice and the cap of liberty upon her spear. She robed her female in white to represent Idaho's status as a virgin state. Edwards also intentionally placed her on equal footing with the male character, a miner, to represent their equality, as well as freedom. Edwards placed the shield between them to be emblematic of the protection Idahoans provide our state and its vast resources. Resources which our livelihoods, and those of future generations, depend upon.
At the time, mining was the chief profession for most Idahoans and the state's leading industry, which is why it was important to Edwards that a miner be included as part of the seal. If you look closely, you can also see piles of ore by his feet and a pickaxe in his hand. To make sure the miner was accurately depicted, she consulted local miners to make sure he was shown wearing the correct garb.
Minerals are not the only resources shown in the seal. Edwards included a fir tree to symbolize Idaho's prosperous timber industry. An elk's head to pay homage to the state's diverse wildlife and the unique game laws that protected them. And lastly, a farmer, bountiful cornucopias and bushel of wheat symbolize Idaho's fruitful agricultural and horticultural resources.
Last, but most definitely not least, Edwards included the words "Esto Perpetua" on a banner at the top of the seal. When translated it means "let it be perpetual" or "let it be forever". Edwards was quoted as saying the words "breathe the prayer that the bounty and blessing of this land may forever benefit its people."
Esto Perpetua would later become Idaho's state motto and the seal Edwards designed would be incorporated on Idaho's state flag.
We hope this history helps you understand the full meaning of our name. We chose Perpetua Resources because we believe it better demonstrates our plan to restore an abandoned mining site, to responsibly develop the critical minerals our country needs for a sustainable future as well as our commitment to both the state's resources and its people.
Citations
History.com Editors . "Idaho Becomes 43rd State." History.com, A&E Television Networks, 16 Nov. 2009, www.history.com/this-day-in-history/idaho-becomes-43rd-state.
"Idaho State Seal History." Idaho Secretary of State's Office, sos.idaho.gov/elect/bluebook/Histseal.htm#:~:text=Idaho%20had%20been%20admitted%20into,of%20the%20State%20of%20Idaho.&text=Idaho%20has%20a%20game%20law,therefore%2C%20rises%20above%20the%20shield.
Idaho Territory in 1863, 29 Nov. 2017, www.robinsonlibrary.com/america/uslocal/west/idaho/history/1863.htm.
Koon, Mckenna. "The Great Seal of Idaho ." TERRITORY Magazine, 25 Sept. 2018, territory-mag.com/articles/the-great-seal-of-idaho/.
"Seal of Idaho." Wikipedia, Wikimedia Foundation, 5 Feb. 2021, en.wikipedia.org/wiki/Flag_and_seal_of_Idaho#/media/File:Seal_of_Idaho.svg.