Published on May 25, 2017
This is the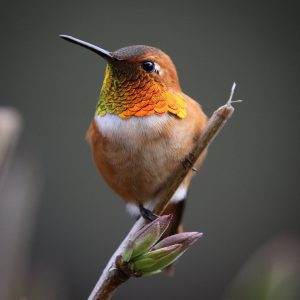 third installment of our special hummingbird series with in-house hummingbird expert, Ken Assmus.  If you want more fun facts, expert advice and stunning photos scroll through our recent blog posts! 
The Rufous hummingbird has officially been spotted in Idaho during its northwest migration. It is the second species of hummingbirds to make an appearance in Idaho this spring.
This small bird is found in more places in North America than any other hummingbird. They breed as far north as Alaska and winter in the southern reaches of Mexico and Central America, which means the Rufous has the longest migration route of all the U.S. hummingbirds. They can be found in Central America, every western state except Hawaii, and in Alberta and British Columbia, Canada.
The male Rufous is copper in color, especially its crown, tail and sides. Sometimes their backs may be green and the feathers near its throat often reflect light in shades of green, orange or bright yellow. The female has a green back and crown, white breast, streaked throat, copper sides and copper tail feathers with white tips. The average weight of the male is 3.22 grams, and the female is 3.41 grams. A household paperclip weighs 1 gram. These birds are incredibly light!
As an avid bird watcher and photographer, I find the male Rufous are the most difficult to photograph of all the species that visit Idaho. Over the past 7 years of observation, the male Rufous is only around for a few days before moving on into Canada or Alaska. The window of opportunity is very short, so when I see one the hunt is on to capture a good image. This year, I'm excited to share with you my photos of a very close encounter with you.
Read my recent post on the Calliope Hummingbird.