Join our Perpetua Resources team!
Published on March 24, 2021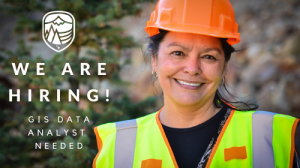 Perpetua Resources Idaho, Inc. currently has an employment opportunity available for a full time GIS Data Analyst. This technically capable employee maintains, updates, and develops spatial (GIS) and non-spatial (tabular) scientific and engineering data. The analyst will create research ready products and final data and analysis products to support the development of the Stibnite Gold Project using advanced technical skills.
This position can be located at the Boise office, or Donnelly office, or potentially a partial remote work option.
Apply for our GIS Data Analyst position today by downloading and completing this application. 
Submit Application and Resume to employment@perpetua.us
Key Responsibilities
Under the direction of the Systems Architect, working with the software packages ArcGIS PRO, AutoCAD, Excel, and Python scripting, the Analyst will perform the following types of work:
Build and maintain property ownership and rights using a parcel fabric construct.
Building and updating feature datasets (GIS data) from a variety of sources while maintaining metadata standards. This may involve digitizing, aggregating, or entering data. This may be current or historic data. These work products will be used by various teams, both internal and external, and be used to proceed in developing the project.
Performing QAQC to ensure high quality data products via visual inspection, topologies, scripted analysis, and other methods.
Developing visually appealing and effective maps and graphics for reports and presentations by Perpetua Resources team members.
Automating tasks through scripting and model builder.
In conjunction with the Systems Architect, establish GIS guidelines and protocols for various departments, consultants, and other external entities. This will include developing a strategy for adoption of enterprise GIS and data management solutions.
Performs other duties as assigned.
Skills / Qualifications
ArcGIS PRO experience. This should be demonstrated as having five years of desktop GIS experience with at least one year primarily using ArcGIS PRO.
Familiarity with geoprocessing techniques including use and manipulation of LiDAR, raster, and triangulated data types. An understanding of geographic and geodetic projection systems.
Experience in 3D drafting or modeling and familiarity with AutoCAD.
Microsoft Excel experience. It is expected there would be familiarity with Excel to do basic table functions and data exploration using graphing and filtering along with more advanced skills such as joining, pivoting, and wrangling using base functions, with pivot tables, or PowerQuery will be highly valued.
Usable knowledge with a scripting language such as Python or R is preferred. This can supplant the required experience to be able to do data wrangling in Excel.
Strong data type and structure knowledge. Including an understanding of physical and spatiotemporal scientific data sufficient to facilitate building research ready data and appropriate utilize that data in geographic analysis under the direction of scientists and engineers.
An understanding of land ownership in a PLSS environment. Skills and knowledge to update and maintain land ownership records and maps. Familiarity with parcel fabrics in ArcGIS.
Ability to interface with GPS in both collecting and providing data.
Advanced personal computer (PC) end user abilities in a Windows environment.
Ability to communicate effectively both orally and in writing.
Effective use of the MS Office 365 suite of program to accomplish common business tasks.
Minimum Qualifications:
BA or BS Degree in Geology, Geography, or three years doing technical GIS work in a related field,
With two or more years as a GIS Analyst.
Three to five years' experience with the software packages ESRI ArcGIS PRO and preferably other CAD based software such as AutoCAD, MineSight, Vulcan, etc.
Ability to read and write the English language and produce clear and concise technical graphics and documents.
Company Overview
Perpetua Resources owns the world class Stibnite Gold Project, located in a historic mining district in central Idaho. In 2014, an independent PFS demonstrated potential for a large-scale, long-life, low-cost open pit gold mine that stands out from its peers.  The Company filed its Plan of Restoration and Operations in September 2016 which has launched the formal permitting process for mine development.  Well-funded and with a multi-million ounce high-grade open-pit gold reserve, important antimony credits and significant room for further growth, the Stibnite Gold Project is one of North America's premier development stories.
Salary DOE.
Competitive benefits package; including vacation and holiday pay, health insurance and 401k retirement plan.
Submit application, resume, & compelling data visualization (does not need to be created by applicant) to employment@perpetua.us