Published on November 16, 2016
The U.S. Capitol Christmas Tree has been a popular holiday tradition on the Capitol lawn in Washington, D.C. since 1964.
A different national forest is chosen each year to provide "The People's Tree," along with 70 additional trees for offices around the Capitol.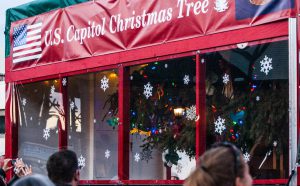 The 2016 Capitol Christmas Tree is an Idaho mountain gem.  The Payette National Forest was chosen to provide this year's tree and workers spent months looking for the perfect one to represent the Gem State.
They eventually chose an 80-foot Engelmann spruce that was cut down in early November at the Little Ski Hill just west of McCall on Idaho 55.
The tree has been placed on a truck and it will tour the state of Idaho for several weeks before traveling 3,000 miles to Washington, D.C.
Midas Gold is proud to celebrate this special symbol of the holiday season.
During a stop in McCall, hundreds of children joined in a parade to help send the tree off to our nation's capital.
On behalf of Midas Gold, thank you to the U.S. Forest Service for honoring the Payette National Forest, Valley County community and entire state of Idaho by choosing one of our trees to stand tall on the Capitol lawn.
The U.S. Capitol Christmas Tree will be officially lit on December 6. It will be decorated with thousands of ornaments made by Idahoans.
To learn more about the U.S. Capitol Christmas Tree, click here to watch a video put together by the U.S. Forest Service.