Published on May 17, 2017
Historical mining activity left its mark on the Stibnite Gold Project site, and not in a good way. You can see it by the lack of topsoil in the area, the absence of fish past the Yellow Pine Pit and, in the spring, it is particularly evident in the quality of the water in Meadow Creek and the East Fork of the South Fork of the Salmon River.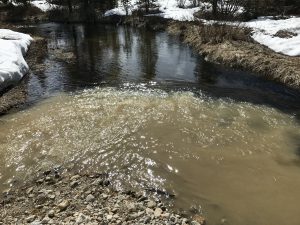 This time of year, when snow is rapidly melting in the mountains, you can clearly see the water from Blowout Creek as it flows into Meadow Creek because it is dark brown from all the sediment it is carrying. Hundreds of tons of sediment erode into the river each year. This degrades the water quality and is harmful to the aquatic life in the river downstream.
Sadly, this problem was created through historical mining operations. At Midas Gold Idaho, we know we can improve the water quality at the site and fix this issue through our modern mining practices – which prioritizes restoration at every step.
So how does so much sediment get into the creek? It started back in 1931, when one of the former mining companies decided to build a dam to generate electrical power for its operations at the site. The dam was built in the hills above the site and produced hydro-electricity to power operations. In 1965, the dam failed and washed out a sizable portion of the hillside, taking trees, boulders and dirt with it. After this, the East Fork of Meadow Creek became known as Blowout Creek.
Today, erosion from that event in 1965 continues to be a significant source of sedimentation and that erosion has lowered the water table in the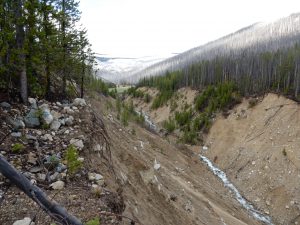 East Fork of Meadow Creek valley by 14 feet, impairing the quality and functionality of the wetlands in the area. Renewed mining activity provides the opportunity to permanently repair Blowout Creek, improving water quality and fish habitat downstream, and restoring the impacted wetlands upstream.
We plan to reduce erosion by installing a "French drain" in the rapidly eroding hillside and raising the level of the water table in the upper valley so that critical wetland habitat can be restored. Finally, we will establish a new channel for water to flow into Meadow Creek so we can improve the condition of that stream and its habitat. Without mining, this work would likely be too expensive to be done and hundreds of tons of sediment would continue to be dumped into the river each year, continuing to impact downstream water quality and fish habitat.
Midas Gold Idaho is committed to leaving the site better than we found it. Fixing Blowout Creek is just one of the ways by which we plan to make this commitment a reality.