Published on June 19, 2018
Belinda Provancher is known by many for many different things. At Midas Gold, we know her as our colleague and friend but others know her as a community ambassador, wedding coordinator, volunteer extraordinaire, event planner, the person you call if you need an extra hand and now one of McCall St. Luke's Hospital's 2018 Spirit of Giving Award recipients.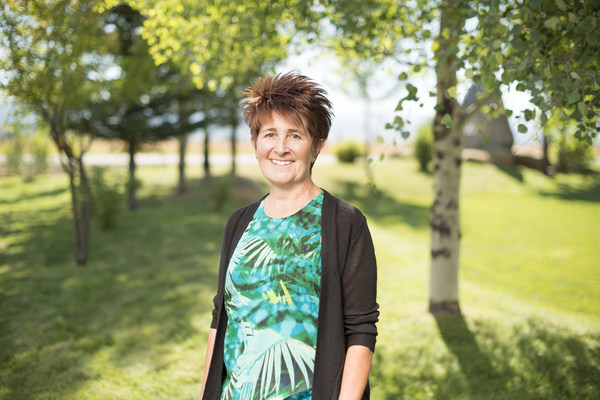 McCall St. Luke's Hospital gives the Spirit of Giving Award to individuals in the community who are helping make their corner of the world a better place. Belinda is part of our team, so we know we are a little biased, but we can think of very few people who are more deserving of this award. Belinda prefers to shine the spotlight on others and would have been happy if we let this honor go unnoticed. However, we couldn't let this opportunity pass without turning the spotlight on her.
If you live in the West Central Mountains, chances are you've benefited from Belinda's involvement in the community and you may not have even realized it. She helps to facilitate the McCall Winter Carnival Torchlight Parade for more than 400 children each year, organizes the community breakfast at the annual Huckleberry Festival in Donnelly, coordinates the gifts for the Optimist Sober Grad Night and is an ambassador for the City of McCall during its Fourth of July festivities. In addition, she is the Chair for Youth Advocacy Coalition, Member of the Valley Adams Health Improvement Coalition, Optimist Member, Rotary Member and sits on the Board of the West Central Mountains Community Foundation. With the help of Midas Gold, she also organizes the Coats for Kids program every winter so children throughout the community have warm clothing to get them through the coldest months.
Beyond those activities, she is also an active volunteer within the business community. She is the Vice President for Cascade Chamber, President for Donnelly Chamber, Board Member for McCall Chamber. Belinda also serves on the McCall Chamber Strategic Initiatives and Marketing Committees.
We are so honored to work with Belinda. Her caring spirit and drive to help others is contagious. She embodies our company's desire to give back and benefit the communities where we work. Thank you for all you do, Belinda, and congratulations on your award!
Belinda will officially receive her award at the Spirit of Giving Celebration on June 21 at 5 p.m. at Bistro 45. The community is invited and encouraged to attend.