Published on June 22, 2022
The supply chain repercussions of Russia's war with Ukraine have policymakers in Washington, DC concerned about securing supplies of antimony, which is critical to renewable energy storage technologies and national defense.
Antimony is a metalloid, which means it falls between metals such as zinc and solid nonmetals like sulfur, with some interesting properties that make it a strategic material for the U.S. military.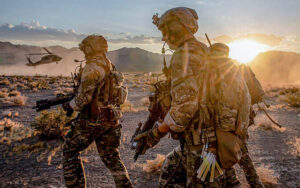 U.S. Army; Sgt. Steven Lewis
The U.S. military uses antimony for flame retardant fabrics, communication equipment, night vision goggles, ammunition, laser sighting, and a wide array of other equipment.
"Antimony is a key ingredient in communication equipment, night vision goggles, explosives, ammunition, nuclear weapons, submarines, warships, optics, laser sighting, and much more," U.S. Army Major General (retired) James "Spider" Marks penned in a 2020 column published in The Washington Times.
The U.S., however, is dependent on imports for more than 80% of its antimony supplies, with most of the rest coming from recycling.
What has some military top brass and Capitol Hill lawmakers concerned is China and Russia accounted for 77% of the antimony mined globally during 2021, according to the U.S. Geological Survey, while there are zero mines producing this semimetal in America.
In a June 8 National Defense Authorization Act report, the U.S. House Armed Services Committee said it "is concerned about recent geopolitical dynamics with Russia and China and how that could accelerate supply chain disruptions, particularly with antimony."
Due to this concern, the committee has directed the manager of the National Defense Stockpile at the Defense Logistics Agency to provide a briefing on the status of the antimony stockpile and provide a five-year outlook on current and future supply chain vulnerabilities.
The House Defense Appropriations Subcommittee also included $10 million in its bill for the Army to study domestic sourcing and production of military-grade antimony trisulfide for tank and medium caliber ammunition.
The Senate Armed Services Committee is also concerned about the geopolitical consequences of being dependent on China and Russia for antimony and other critical minerals.
"America's defense in the modern era increasingly demands the use of critical minerals, making it more essential by the day for our nation to have a sufficient stockpile of and reliable access to these materials," said Sen. Joni Ernst, R-Iowa, a combat veteran that serves on the Senate Armed Service Committee. "At this very moment, our enemies like China dominate the supply chain of these increasingly vital materials, and are even expanding into regions such as Africa and Afghanistan, threatening our readiness in an emergency situation and jeopardizing our national security."
Senators Ernst and Joe Manchin, D-West Virginia, who also serves on the Armed Services Committee, introduced the Homeland Acceleration of Recovering Deposits and Renewing Onshore Critical Keystones (HARD ROCK) act on June 14.
This legislation is designed to bolster the National Defense Stockpile of strategic and critical materials needed for national security.
"America is blessed with an abundance of natural resources that can help us address our reliance on foreign supply chains for critical minerals," said Sen. Manchin, who also serves as chair of the Senate Energy and Natural Resources Committee. "By addressing the weaknesses in our current National Defense Stockpile, our bill will bolster American critical mineral independence and help ensure we have the resources we need for essential defense products and services."
In addition to the HARD ROCK Act, the Senate National Defense Authorization Act includes $1 billion in funding to support the Defense Logistics Agency's acquisition of critical defense materials, like antimony, for the National Defense Stockpile.
America's reliance on antimony imports belies the domestic abundance of this metalloid.
Many of North America's richest gold districts host healthy amounts of antimony, but the latter strategic metalloid is often discarded in favor of the more valuable precious metal. This dynamic, however, reversed when antimony's strategic value increased during the World Wars.
This is particularly true for the Stibnite gold mine in Idaho, which shifted its focus to recovering tungsten and antimony to support the needs of the U.S. military during World War II.
From 1941 to 1945, Stibnite Mine produced more antimony and tungsten than any other mine in the U.S. – accounting for 90% of the antimony and 40% of the domestic tungsten produced during this wartime effort.
This Idaho mine was singlehandedly credited for substantially shortening the duration of World War II, potentially saving millions of lives.
"In the opinion of the munitions board, the discovery of that tungsten at Stibnite, Idaho, in 1942 shortened World War II by at least 1 year and saved the lives of a million American soldiers," according to the March 7, 1956, U.S. Senate Congressional Record.
Perpetua Resources Corp. plans to reestablish Stibnite as a domestic source of the antimony that could lessen America's dependence on adversaries for this strategic metalloid.
"I am encouraged by the recognition from the Congressional committees with jurisdiction over national security that we simply cannot allow Russia and China to control our country's access to munitions and military equipment," said Perpetua Resources President and CEO Laurel Sayer. "Without immediate action to secure access to the minerals we need, America will continue to be vulnerable. Perpetua's vision for the Stibnite Gold Project includes providing our nation with the only domestically mined source of antimony and, in doing so, offers solutions to help strengthen our national defense."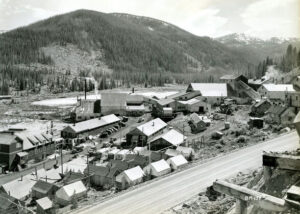 The Stibnite Mine accounted for 90% of the antimony and 40% of the tungsten produced in the U.S. during World War II.
In addition to its military uses, antimony is increasingly being used as a primary ingredient in liquid-metal batteries that can store electricity at the grid scale, a key enabler to the transition to intermittent renewable energy sources.
This adds to the criticality of antimony and the advantages of a secure supply of this strategic semimetal currently dominated by China and Russia.
Read more about antimony uses and the Stibnite Mine project at Antimony may be a renewable energy hero in the Critical Minerals Alliances magazine published by Data Mine North.
Read the original article here.