Published on March 20, 2017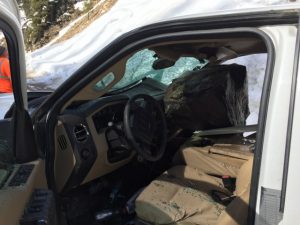 No four-leaf clovers were found up at the Stibnite Gold Project site on Saint Patrick's Day but it is clear the luck of the Irish was with our team and contractors as they traveled home that day. As three vehicles drove from Stibnite into Yellow Pine along Stibnite Road, two large boulders dislodged and came down and hit the passenger side of a Ford F250 belonging to one of our contractors. Fortunately, no one was in the passenger seat and the driver walked away with a minor scrape.
Safety is at the core of all we do. It was lucky that no one was in the passenger side of the truck on Friday, however, we have lots of measures in place and use precaution to keep everyone safe. We are constantly doing all we can to keep the roads safe for our employees and the recreationalists who also travel them.
"We do not rely on luck to keep us safe, rather we inspect, check and recheck and then have a plan in case something happens anyway," said Kyle Fend, Environmental Superintendent, Midas Gold Idaho, Inc. "We want everyone to return home safely everyday."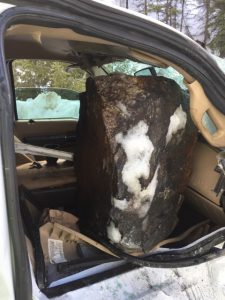 As we travel the road, we regularly report road conditions to the town of Yellow Pine, the County and our staff so that everyone may be aware of changing conditions. We pay particular attention in the winter and spring months when we know road conditions can change quickly.
Having the right gear and the right communications tools are essential when traveling mountain roads. But keeping an eye open for potential risks and having a safety plan in place in case of accident is critical and helps ensure everyone makes it home safely.
The boulders were removed and the road is now open for limited use.