Published February 22, 2021
Earlier this year, we lost an amazing team member to COVID-19. Ken Assmus was our senior GIS specialist, a dear friend to many, lifelong advocate for education, avid nature photographer and hummingbird expert.
Ken worked for Midas Gold for 12 years. He helped recover, catalog and digitally capture literally truck-loads of maps and figures from historic records recovered for the Stibnite Gold Project site.  His attention to detail was as crisp as his artistry in preparing maps and presentations and his understanding of the best way to get a point across was unmatched.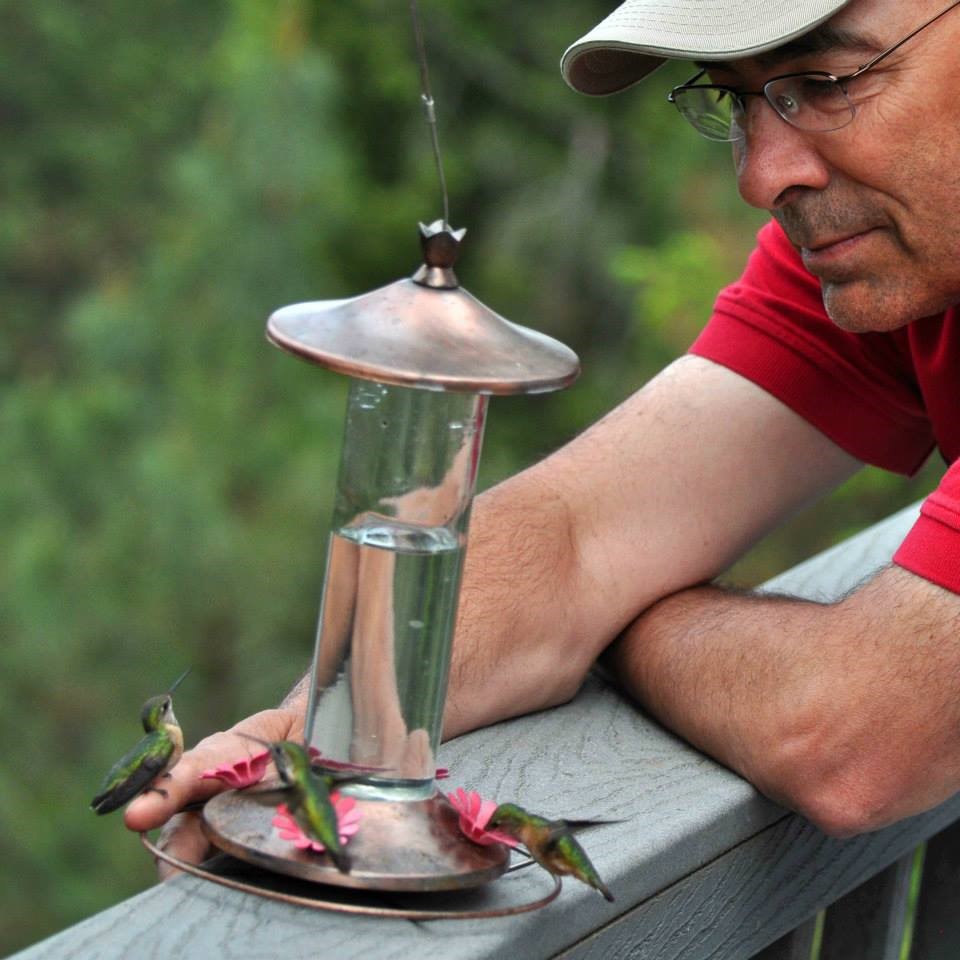 Ken traveled extensively around Valley County, in and around north Idaho, and around his home town in Spokane, Washington doing community outreach in classrooms and leading field exercises. He taught young students about how minerals were formed and what we use them for today. He was a regular at teacher's workshops and the "go to person" for many teachers when they developed their own earth science curriculum and training programs.
Ken's love for learning was contagious. He was constantly volunteering in classrooms, providing educational resources for teachers or helping Boy Scouts earn their Mining in Society Merit Badge. He also served as a board member for the Northwest Natural Resources Institute, a non-profit dedicating to helping educators and students gain a deeper understanding of the important role agriculture, mineral, forest and water resources play in each of our lives. He made a huge impact on our team and in the lives of many students across the Pacific Northwest.
Over the last month, our team has been searching for the right way to honor Ken. And we finally found it.
In his memory and in his honor, we are launching the Ken Assmus Memorial Scholarship for Academic and Community Achievement.
This annual scholarship will be awarded to one graduating high school senior who stands out for their academic performance and community achievement. Applicants must be from one of the schools eligible to apply for the Perpetua Resources Community Scholarship. The Ken Assmus Memorial Scholarship for Academic and Community Achievement is $4,000 and must be used to further education at a university, college or trade school.
Ken was a fierce advocate for continuing education.
Any opportunity he had, he encouraged students to push themselves. He helped students recognize their full potential and made some of them realize the opportunities available to them. We hope this scholarship will help continue his work and make higher education more accessible to a deserving senior.
Ken, we hope we can help carry on your legacy.
If you were not lucky enough to know Ken, we hope you will take a few moments to read a blog series he developed for us on hummingbirds. He spent time volunteering at Rudeen Ranch, where he helped capture, band, photograph and release hummingbirds in order to research their growth and migration patterns. The blog series showcases his knowledge, stunning photography and gives you a glimpse into the truly remarkable person Ken was.
If you would like to learn more about the Ken Assmus Memorial Scholarship, please view our 2021 application here.