Published on October 5, 2021
As a unique, proudly Idahoan enterprise, Vice President of External Affairs at Perpetua Resources, Mckinsey Lyon, discusses the prospect of using modern mining as one of the solutions to climate change and the company's  responsibility to be environmental custodians for the next generation
Writer: Phoebe Harper  |  Project Manager: David Knott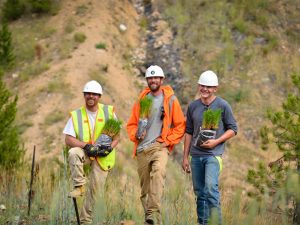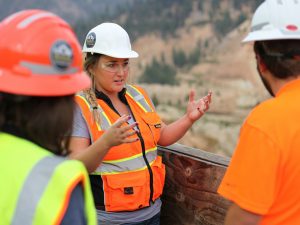 "It is time for mining to come home."
Mckinsey Lyon, Vice President of External Affairs at Idaho-based Perpetua Resources, envisions a sustainable future where mining is no longer part of the problem, but rather, part of the solution.
As a native Idahoan, Lyon was raised with a deep appreciation for her state's natural beauty.
This makes her fully aware of the seemingly odd juxtaposition of the role modern mining can play in conserving our planet.
"I was a skeptic," she comments. "I'd seen the scars of century-old mining practices and that was all I knew of mining."
Yet as is often the way, particularly in this industry, scratch a little below the surface and you will unearth the real treasure.
As the name suggests, Perpetua Resources is a mining company that prioritizes responsible mineral extraction and creating  solutions for the environment. This is evidenced at every stage of Perpetua Resources' operations, from their commitments to sustainability, the relationships they've fostered with suppliers and the local community, and finally the overarching ambition to redevelop one of the largest long-life gold projects in the United States and restore a brownfields site in the process.
Perpetua is at the nexus of the solution to a truly global problem. By responsibily [sic] mining gold and antimony in Idaho, the company can seek to redress the balance of bringing mining back to home turf.
"For too long, we've pushed mining off shores to places we will never see and people we will never meet," said Lyon. "American mining is at the core of the solutions for our nation's most pressing needs. It is impossible to ignore the strategic and environmental need to domestically produce the minerals and metals we need."
As a corporation focused entirely on the exploration, development, and site restoration of gold-antimony-silver deposits in the Stibnite mining district in central Idaho, Perpetua Resources has access to minerals that hold the key to solving some of modern America's most pressing issues – supply chain insecurity, infrastructure, and a reduced carbon future.
Right now, the North American mining industry stands on an incredibly exciting precipice, its potential yet to be fully realized, with Perpetua Resources well-placed at the vanguard.
ESG AT THE FOREFRONT
Arguably the greatest defining aspect of Perpetua Resources as a mining company, is its leading commitment to ESG.
"We have been doing ESG before there was ESG," said Lyon.
Since its formation, Perpetua Resources has understood the importance of prioritizing environmental outcomes, conducting mining activities in a responsible manner, and being transparent and accountable to community stakeholders.
Environmental and social responsibility and good governance is firmly entrenched into all aspects of operations.
THE STIBNITE GOLD PROJECT 
As Perpetua's flagship project, the Stibnite Gold Project is the total embodiment of the company's ethos and ways of working with the surrounding communities.
The project is unique because it is located in a brownfields site. The Stibnite mining district was mined on and off for more than a century before it was abandoned. Modern mining presents the best opportunity to restore the legacy mining impacts left behind, particularly activity that occurred on site during WWII.
"Our project brings the resources and expertise for legacy clean up and is the only viable solution to address the environmental legacies that remain at Stibnite," Lyon explains.
Perpetua Resource's activities at Stibinite [sic] will be instrumental in restoring the natural flow of the headwaters of the salmon river and reintroducing open fish migration to miles of upstream habitat that has been blocked for over 80 years.
"Our solution for fish passage comes both through a temporary fix in the first years of operation via the fish passage tunnel and permanently through complete river restoration to achieve volitional passage," she continues.
The company will improve water quality by picking up, reprocessing, and safely storing millions of tons of legacy tailings, whilst bringing uplift to habitat, wetlands and stream functionality.
"In addition to cleaning up legacy tailings, helping fish access miles of critical habitat, and restoring a river that currently flows into an abandoned mining pit, the Stibnite Gold Project can help power the clean future," Lyon explains. "Our next milestone in the environmental permitting process is for the US Forest Service to release a report known as the Supplemental Draft Environmental Impact Statement, which we expect in the first quarter of 2022. This report evaluates our project design after improvements were brought forward based on public and regulatory agency feedback. We anticipate a final decision on the project in the first half of 2023."
In addition to bringing environmental solutions to Stibnite, Perpetua is excited about the role it can play in America's clean energy future.
"The Stibnite Gold Project will be the only US mined source of the critical mineral antimony. Some of the antimony from our site will be used to support low carbon battery storage technology."
Perpetua recently signed a strategic agreement with clean battery storage company, Ambri.
CONSERVING IDAHO 
IIt [sic] is no secret that Perpetua's greatest resources are its people. The company consists of 34 employees, about 40 percent of which are female (50 percent when you look at just the executive team) – a rare phenomenon in an industry that is widely recognized for being male-dominated.
Indeed, it was this people-centric and environmentally-minded focus that converted Lyon from an initial skeptic to a full-blown believer in the positive potential of modern mining.
"It was meeting the men and women working in mining today that showed me we share the same values and we are equally committed to protecting the resources we love while providing for our families and our nation.
"After seeing the ethos of the people in the industry today and regulatory environment shaping American mining, I know that mining in the US is the most ethical and environmentally sustainable choice we can make. It is what keeps me committed to this industry."
As a proudly local employer, most of Perpetua Resources' employees are Idahoans. As such, the staff behind Perpetua Resources are naturally invested in the project and embrace their role as custodians and environmental stewards of the place they call home.
With such a laudable mission at the fore and a prevailing commitment to ESG, recruitment and retaining talent comes relatively easy for Perpetua Resources.
"Our employees and contractors want to be a part of something that is truly unique. Each one of us was drawn to the company because of the vision that we can use responsible, modern redevelopment to restore an abandoned mining site.
"Providing a flexible workplace, empowering all voices through diversity, equity, and inclusion practices, and taking time to celebrate our successes has helped us maintain momentum and connection as a team," Lyon tells us.
On a similar level of importance is the company's involvement in the local community, with Perpetua Resources relying and acting on community feedback to improve aspects of its plans from environmental outcomes to transportation routes.
Lyon, and by extension Perpetua, are fully alert to the discord that can arise between mining companies and surrounding communities, hence the company's prioritization of amassing local support by opening a dialogue with schools, governments, community groups and businesses, to ensure everyone's interests are vested in the improvement of the project.
"The Stibnite Advisory Council and Stibnite Foundation are great examples of the partnerships between Perpetua and the community. Stemming from our 2018 community agreement, the Stibnite Advisory Council and Stibnite Foundation are our commitments to listen, partner and provide sustainable and long-term benefits to the surronding [sic] communities."
"Corporate social responsibility is at the core of who we are and guides our actions of being a good community partner."
Perpetua's clear mission and desire to prove modern mining can be a tool for environmental restoration has gained support from investors.
"We recently raised $50 million through a financing that leaves us well-capitalized through the permitting process," she tells us.
One particularly significant working partnership, is Perpetua Resources' ongoing association with the American liquid battery producer Ambri. The two companies signed an agreement to collaborate in August 2021.
"The partnership with Ambri and their clean energy storage battery is a significant partnership and propels not only our ESG commitments but also draws attention to the strategic importance of the project," Lyon tells us.
The project will provide a major boon for job opportunities, estimated to provide 500-600 direct jobs to rural Idaho during operation, whilst underscoring the role of the mine in accelerating America's clean energy future.
With the company's vision embodied by Idaho's state motto, Esto Perpetua, let it be perpetual, Perpetua Resources is poised to be an important player in America's modern mining landscape for years to come.
Click here to read the original article.